Within the BPI the three participating universities combine and complement their scientific strength and expertise in the area of polymer science and engineering.


By building a common and coordinated research infrastructure, the universities of Bayreuth, Erlangen-Nuremberg and Würzburg aim to tackle arising societal challenges via innovative research projects.
In an interdisciplinary approach, the members of the BPI aim to address the entire value chain starting from the synthesis of tailor-made polymers and supramolecular polymers, the formation of nano- and mesostructures, the investigation of their physical properties, as well as material and application-oriented design and manufacturing processes for novel applications. Through theoretical work and simulation calculations, additional impulses are provided that serve the rational design of complex materials.
The competencies of the three universities include: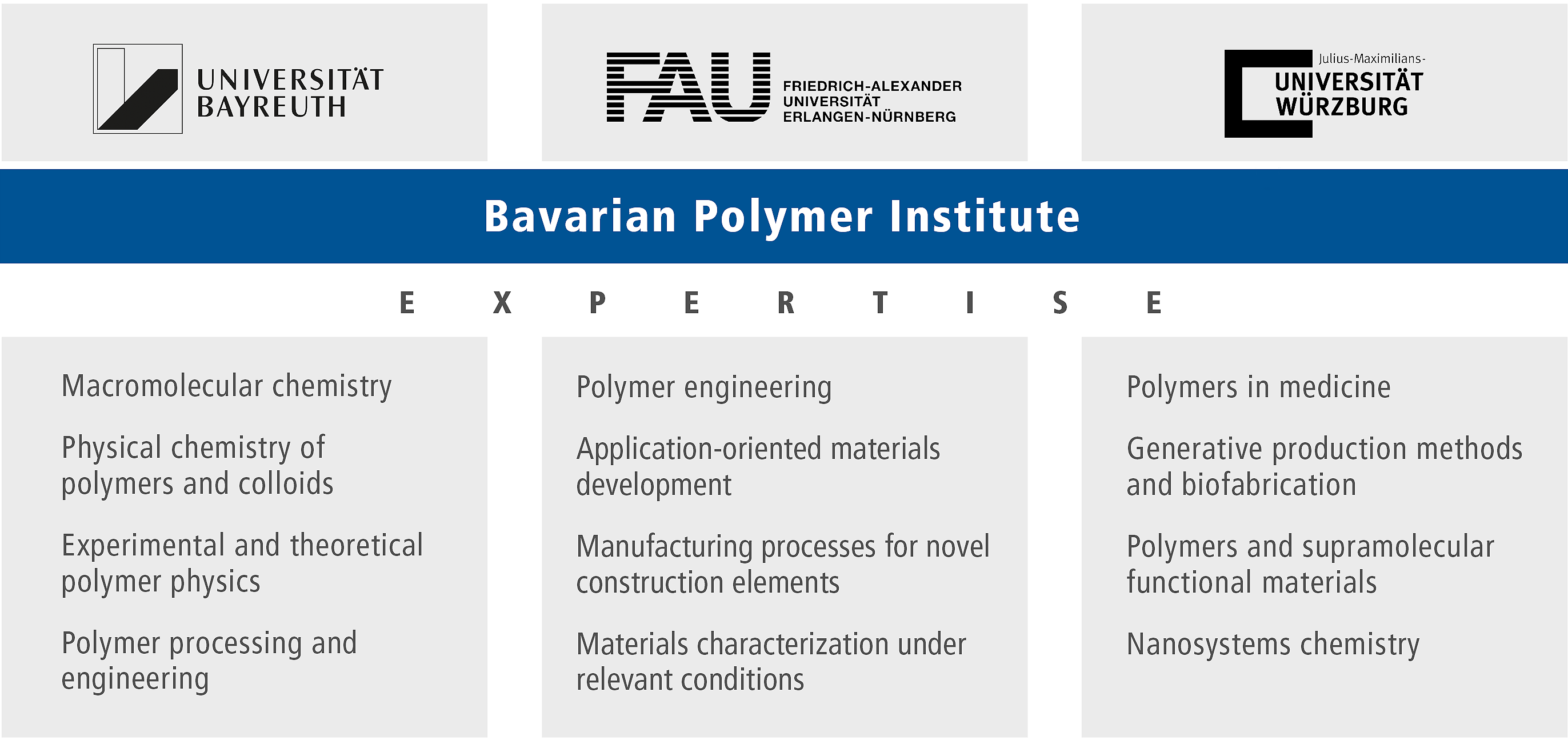 By combining the resources of the three universities, an extraordinary broad variety of scientific instrumentation and infrastructure as well as novel interdisciplinary teaching concepts becomes available.
The BPI closely connects the participating universities with regional, application-driven research institutes, including New Materials Bayreuth GmbH and New Materials Fürth GmbH, the Süddeutschen Kunststoffzentrum in Würzburg, the Kunststoffcampus Bayern in Weißenburg as well as the Bavarian Center for Applied Energy Research in Erlangen and Würzburg and the Fraunhofer Institute for Silicate Research ISC in Würzburg. These strategic collaborations enable the efficient transfer of fundamental knowledge into novel products and industrial processes. The implementation of academic research into industrial applications is further fostered by joint research projects with industrial partners within Bavaria and aboard.
The intensive institutional cooperation in research as well as teaching generates excellent and sustainable opportunities for researchers, young scientists and students of the three universities and beyond.