The research of the BPI links fundamental aspects of polymer sciences with technological engineering. A fundamental understanding of molecular properties in complex materials forms the basis for novel polymer-based innovations able to address arising global challenges.

By combining the resources of the three universities, an extraordinary broad variety of scientific instrumentation and infrastructure as well as novel interdisciplinary teaching concepts becomes available.
The key element of the Bavarian Polymer Institute is the establishment of a harmonized research infrastructure. Joint laboratories, so-called key laboratories (KeyLabs), bundle state-of-the-art instrumentation and longstanding expertise of the individual research institutes of the three participating universities. The KeyLabs offer ideal conditions for researchers and provide a basis for collaborations with national and international scientists.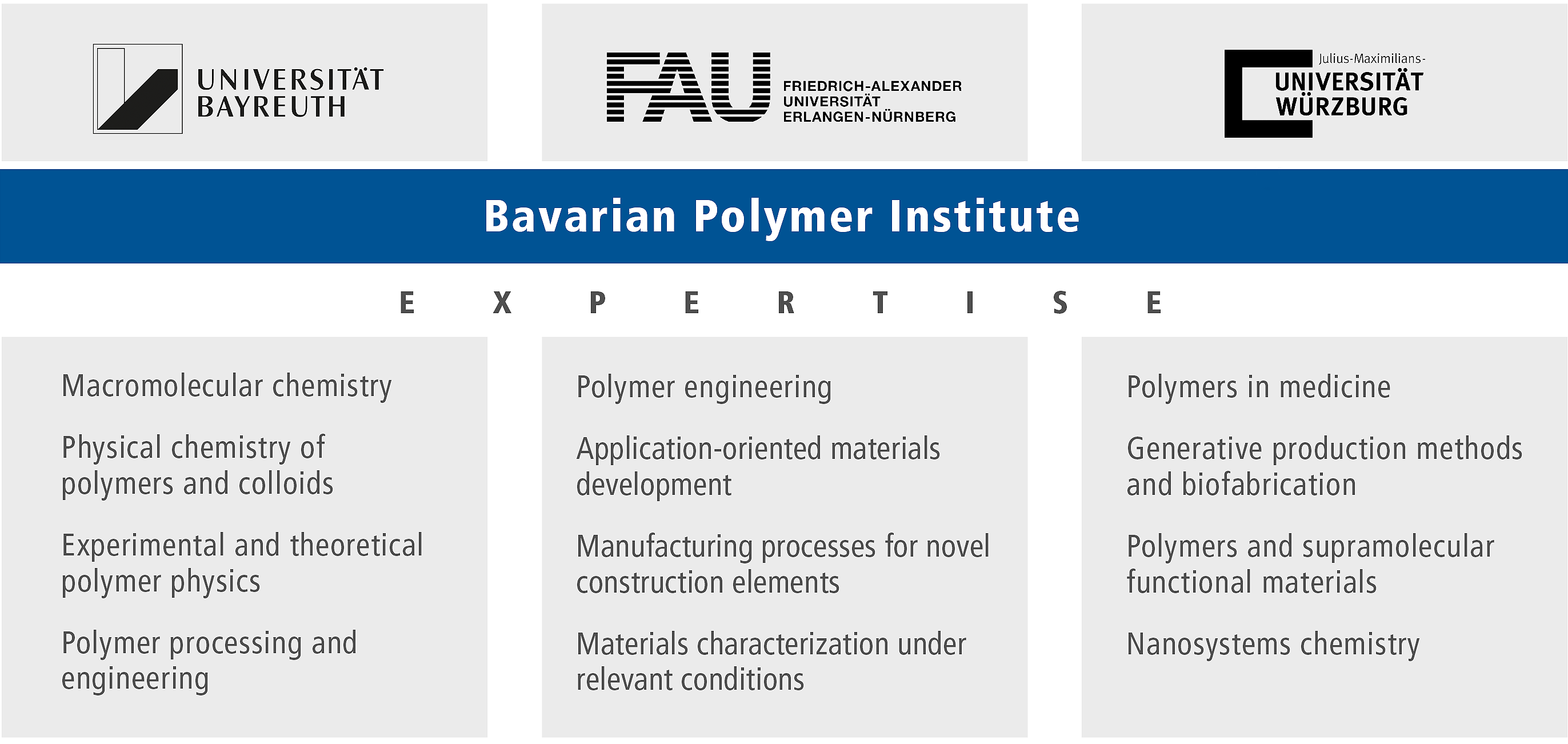 The BPI closely connects the participating universities with regional, application-driven research institutes, including New Materials Bayreuth GmbH and New Materials Fürth GmbH, the Süddeutschen Kunststoffzentrum in Würzburg, the Kunststoffcampus Bayern in Weißenburg as well as the Bavarian Center for Applied Energy Research in Erlangen and Würzburg and the Fraunhofer Institute for Silicate Research ISC in Würzburg. These strategic collaborations enable the efficient transfer of fundamental knowledge into novel products and industrial processes. The implementation of academic research into industrial applications is further fostered by joint research projects with industrial partners within Bavaria and aboard.
Based on the decision of the Bavarian Council of Ministers from August 2014, the Bavarian Polymer Institute will be financially supported by the State of Bavaria within the framework of the North Bavarian Initiative from 2016 – 2018.

Press release concerning the signing of the cooperation agreement between the participating universities.